Galvanise Your Ideas into Real Results
Our clients come from a wide range of industries and sectors, representing some of the region's top firms:
---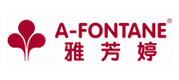 Nov 12, 2012
From the very beginning of our online eCommerce projects, UFOSend has followed the job closely and been extremely responsive with professional advice. Our sophisticated membership system and points redemption features require this sort of dedication for the analysis of purchasing behaviour and promotion of offers.
UFOSend has seamlessly integrated the eDM engine to our eCommerce site, giving us a single platform from which we could manage online buyers and log their purchase details. Along with their tracking and analytical tools, it is easy to measure the effectiveness of each eDM campaign, and to announce news such as grand openings, segmented VIP promotions, or even company notices.
With their assistance, everything is now running very smoothly. Thank you for your support.
Sincerely,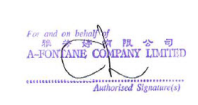 Mr. Samuel Lo
R&D Manager
A-Fontane Co Ltd

Jun 4, 2013
InMart Resources Limited has been supporting the branding for SAP Hong Kong Co., Limited in 2012 and 2013. These include eDM creations and its maintenances, over 50,000 Emails blast for each campaign, response on customers' request, and subsequently on automated management with detailed reports. All of the mentioned services have been driving demands generation for SAP Hong Kong Co., Limited.
Most importantly, InMart Resources Limited has the ability to fullfill customers' satisfactions. The professional service they have been providing is consistence, reliable, and continuously showing the expertise in the eMarketing industry. SAP Hong Kong Co., Limited is very content with their efficiency on completing branding requirements under pressure and tight timeline.
SAP Hong Kong Co., Limited strongly recommends InMart Resources Limited to other companies as their eMarketing provider.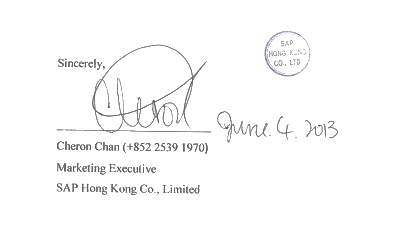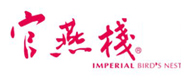 Aug 20, 2013
To Whom It May Concern,
InMart Resources Limited has been responsible for our online solutions since we first contracted with them in August 2011.
In all our dealings with them, l have been greatly impressed by their thorough planning, their honesty and their professional advice. lnMart has helped us not only build our website (www.ibnest.com) and other mini-sites, but their eMarketing division UFOSend provides us eDM solutions that leverage our online brand presence. Their easy-to-use interface and detailed reporting also offer insights on how we can further improve engagement with our members.
Using an HTML email template is not as simple as it sounds: from inline CSS to customize fonts, to content-image ratio and consideration of width and height for mobile users, and so forth-it all makes building a template challenging. Their team was always willing to guide us through creating an effective template, maximizing information, and maintaining brand image, as well as minimizing the chances of being misreported as spam.
I have no reservations about recommending UFOSend for eMarketing solutions.
Sincerely,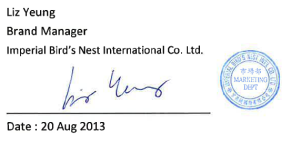 Feb 18, 2014
Dear Derek,
Reference Letter for UFOSend
UFOSend has been responsible for Red Ant Restaurant Group's eDM and SMS services since our first contacting in 2011. During all my dealings with UFOSend I have been impressed by their thorough planning, their honest and professional advices, the efficiency of their design and support. Most of all, our group is feeling more than satisfactory on their exceptional levels of customer services.
With their help to tailor make designs on our Red Ant's email template, we received great deals of praises from our customers. What makes our list be maintained in a healthy manner is their bounce back handling, we find this is extremely useful since we can save much time from manual processing when compared with our old platform.
It is fair to say the company exceeded our expectations on all levels and continues to do so.
Should you be considering UFOSend for Email Marketing solutions I would have no hesitation recommending them.
Yours Sincerely,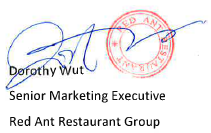 Aug 22, 2013
To Whom It May Concern,
Thumbs Up on Email Marketing Solutions from UFOSend
Since our first engagement with UFOSend eMarketing Inc. Ltd. Derek in 2010, we have completed a lot of marketing campaigns range from regular monthly and seasonal promotion newsletters to complex digital coupons sharing and tracking. We send several million emails each year and all are in a very satisfactory result.
What makes our cooperation even more fruitful is UFOSend can continuously deliver the same high level of professional support even after every campaign has launched – never hesitated to provide support with quick responses.
UFOSend has been incredibly supportive in providing and implementing an eDM solution for our group, they always help us consider how to bring a better user experience, as well as to customize and fit our needs to cater online-to-offline business plans. They demonstrate their expertise in e-marketing idea generation, and most importantly, turn the idea into implementation.
Sending eDM is not that simple as expected, UFOSend helped design eDM templates and provided other professional advices on how to increase inbox deliverability. With their assistance to advocate list hygiene and it's bounce back auto handling mechanism, now the successful delivery rate is incredibly as high as 99.5%+. In addition to this, after the new suggested approach of eDM implementation, we saw the open rate of campaigns increased significantly.
UFOSend's work has greatly contributed to drive Wing On's brand awareness especially in terms of online resources.
I would like to express our deepest appreciation to UFOSend for their dedication in meeting and exceeding the goals we set. All these provided us a great degree of confidence working with their team. We would absolutely recommend UFOSend as your online business partner to work with.
Sincerely,